Antaeus Books®
Antaeus Books®, Inc. was born in Miami, Florida, in 2010 with a three-fold mission:
To discover, publish and market quality literary fiction and nonfiction overlooked by traditional publishing companies.
To launch new, tech-savvy business and legal-marketing books through our business publications imprint EMPORION PRESS.
To maintain the highest standards in editing, design and intelligent use of electronic media to distribute and publicize our products.
To help do that we've partnered with the world's largest book distributor, Ingram, and its Lightning Source, Inc. division to make our quality paperback books available to retailers and distributors worldwide.  All Antaeus and EMPORION books are available in e-book formats for Kindle, Sony and other digital readers and can be found on Amazon, Apple iBooks, and Barnes & Noble for readers worldwide to access our books easily and read instantly.
WHY ANTAEUS?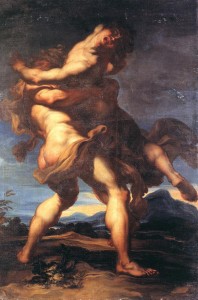 Antaeus (also Antaios) (Ἀνταῖος) in Greek and Berber mythology was a half-giant, the son of Poseidon and Gaia, whose wife was goddess Tinge. He was indefatigably strong as long as he remained in contact with the ground (his mother earth), but once lifted into the air he became as weak as other men.
Antaeus had defeated most of his opponents until it came to his fight with Hercules. Upon finding that he could not beat Antaeus by throwing him to the ground as he would re-heal due to his parentage (Gaia), Heracles discovered the secret of his power. Holding Antaeus aloft, Heracles crushed him in a bear hug.
The story of Antaeus has been used as a symbol of the spiritual strength which accrues when one rests one's faith on the immediate fact of things.
-Wikipedia (excerpt)
At Antaeus, we embody indefatigable spirit and commit our resources to our passion—publishing books that people want to read, written by authors that earn that honor.  Keeping our feet firmly planted, gaining strength from the Earth, we fight full-sized giants and win.