San Miguel De Allende, Mexico by Rick Skwiot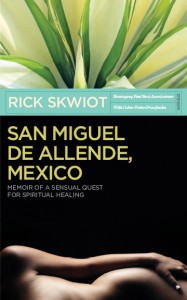 Rick Skwiot's earthy, funny and self-effacing chronicle of his heathen days south of the border. With little money and few prospects the troubled freelance writer takes off to Mexico to find himself. Instead he discovers fast-living, amoral, yet spiritually grounded Mexicans who infect him with a soulful lust for life.
Sexy, surreal, and darkly comic, Skwiot's vivid tale depicts his beneficent immersion into small-town Mexican life amid a group of quirky locals and oddball Anglophone expats. Along the way he paints an intimate and sympathetic portrait of Mexico and its people. Ultimately this sultry memoir seduces any reader who values honest reporting of a spiritual journey in which the author finds his deliverance through the senses.
The spice of life awaits anyone who seeks to find it. "San Miguel, De Allende, Mexico: Memoir of a Sensual Quest for Spiritual Healing" is a tale from Rick Skwiot as he reflects on turning his life around during an extended trip to Mexico and learning what it had to offer him. With a thoughtful approach and no shortage of sensational writing that doesn't skimp on the interesting parts, "San Miguel, De Allende, Mexico" is an excellent blend of travelogue, memoir, and spiritual reading.
What readers are saying about San Miguel de Allende, Mexico: Memoir of a Sensual Quest for Spiritual Healing
 "I thoroughly enjoyed every page. The writing is, as expected, exquisite, but there is something new and powerful about this memoir… [It] builds a strong emotional core that pulls you in from start to finish… And then, there are countless characters that just make you laugh out loud… Like the land it depicts, this is a book of rare beauty, hope and possibility."
"A sensual feast. Rick Skwiot gives us history, culture, and humor as he describes the beauty, poverty, and peculiarities of life in small town Mexico. His words will make you feel the warm sun and the lure of tequila, but are grounded in the reality of life struggles–his own, other gringos, and his Mexican friends…Excellent read."
"…a man's version of Elizabeth Gilbert's Eat, Pray, Love but without her fat checkbook and self-indulgence."
"It is not about folk-art and being a clever expat artist living an unreal cocooned life in a Third World country, but about a man, a bit lost, who discovers things about himself through his interaction with people who really live there. If you want to know about the real San Miguel, and not the Tourist Guide version, then you will enjoy this book as I did."
"…The author's elegant, evocative style demands that the reader slow down–as the American who would absorb and understand Mexico must–and relish each carefully crafted phrase, apt image and well-chosen word set before him. In an era when our neighbor nation to the south appears inscrutable, incomprehensible and dangerous, Skwiot lays it bare, picks it apart for our study and reassembles it whole in a love song to the land where he came of age, lived within his body and found his writer's soul. Memorable and important, this slim volume is to be savored, re
read and treasured."
"I read it once and just had to go back and read it again–I was so fascinated–for it delves into the lowest and highest reaches of Mexican culture… [The] award-winning author has accomplished another masterful writing…"
"…a thoughtful, sensitive and sometimes funny memoir of the author's personal journey to personal discovery… His transformation occurs through personal observation and deep understanding of the people he meets. People who live in the present, live in their hearts and most of all live in their bodies… Skwiot discovers that to become an artist requires all one's ardor. And that is not bad advice for the rest of us."
About Rick Skwiot
Rick Skwiot is the award-winning author of two novels set in Mexico and a critically praised childhood memoir. He has published numerous feature stories, short stories, essays and book reviews in magazines and newspapers. Rick has taught creative writing at Washington University in St. Louis and at the University of Missouri-St. Louis, where he served as the 2004 Distinguished Visiting Writer.
this is not Guide Book about San Miguel. It is about 'real' people who live there from the perspective on someone who 'went native'. He actually learned to speak Spanish and had Mexican girlfriends.
What I found the most interesting is that Rick was as lost in San Miguel as all those souls who come to San Miguel to find meaning but that he found it in a different way. He didn't decorate, or take up art, or play golf or become a social slut, however he did find something.
This book is a must read for anyone who wants to know about the 'real' San Miguel and not the San Miguel created by those who wear rugs, live in big houses and hire the 'real' people. Read the review here…