Rick Skwiot
Key West Story by Rick Skwiot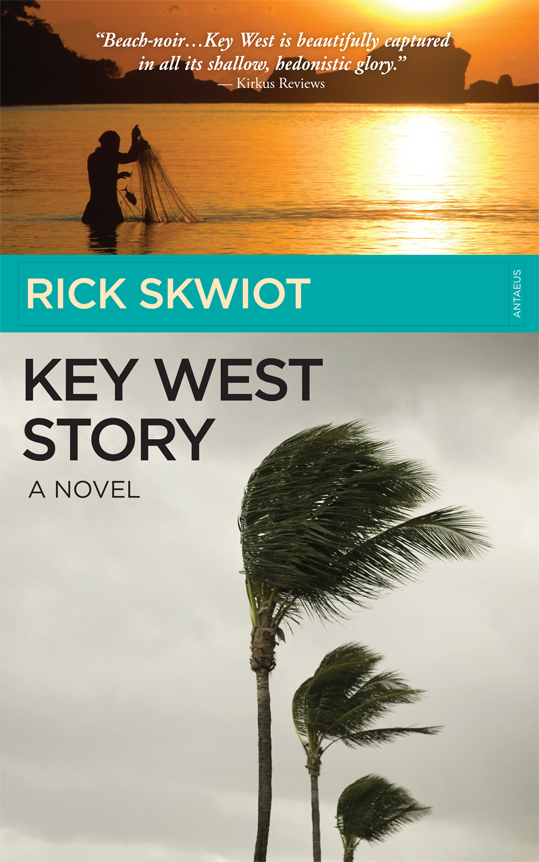 Con Martens, a writer in desperate need of divine inspiration and both literary and moral guidance four years after the runaway success of his debut novel, "Sirens in the Streets," has escaped to Key West to ease his suffering from writer's block and dwindling money. To complicate matters, he gets tangled up with two passionate women—one, Cat, a fierce lawyer who, to his terror, professes to love him; the other, Eva, a Czech refugee who proposes to marry and take care of him, financially and sexually, in exchange for her green card. One night, after a wild Cat fight, Con ends up in a bar. Over rum, he meets an intriguing stranger named Nick, who happens to be a dead ringer for the young Ernest Hemingway. Before long, Con is hooked on drinking, fishing, and soaking up advice from a man who could be crazy…or just might be "Papa" reincarnated.
Against the backdrop of mangroves and mansions, Key West Story moves from Key West to Cuba, flirts with dream lovers, braves one formidable hurricane and several tempestuous personalities, and offers a bounty of wisdom about writing, living, and loving.
Recommended for anyone interested in the REAL Key West, Ernest Hemingway, Cuba, tropical settings, romantic adventures, or humankind's search for meaning.
Award-winning Key West-based novelist and memoirist Rick Skwiot is the author of the Hemingway First Novel Award winner Death in Mexico (previously published as Flesh), the Willa Cather Fiction Prize finalist Sleeping With Pancho Villa, the critically acclaimed childhood memoir Christmas at Long Lake, and, most recently, San Miguel de Allende, Mexico: Memoir of a Sensual Quest for Spiritual Healing. He has taught creative writing at Washington University in St. Louis and served as the 2004 Distinguished Visiting Writer at the University of Missouri-St. Louis. Co-founder and director of the nonprofit Key West Writers Lab,  he lives in Key West, Florida.
REVIEWS

"…[Skwiot] has worked a little noir into the island setting rife with colorful characters, seedy hotels and smoldering women…Hemingway fans should be intrigued." –examiner.com (Read the full review here.)

"…the kind of book for which our island was once upon a time famed throughout the world. Hemingway…Havana…hurricanes commingling in a tale of love and redemption." –Key West Citizen

"A fantastic book on the writer's life…telling us an amazing story about Key West…but also carrying a deeply profound message about the writing life, about the writer's mission and the mistakes that can be fatal to a writer's career."—The Right to Publish, January 12, 2012 (Read the full review here.)

"A witty, literate and wildly exuberant take on sex, writing and life in Key West. With a benign Hemingway as life- and writing-coach, how could Rick Skwiot's hero fail to flourish?"–Rosalind Brackenbury, author of Becoming George Sand

"Key West is beautifully captured in all its shallow, hedonistic glory, and Skwiot's ability to reveal it and its citizens in subtle, amusing ways eases the reader into this unique world… A destitute writer in the Florida Keys is visited by the reincarnation of Ernest Hemingway. Con Martens may only be scraping by, but in sunny Key West that's not so bad. With plenty to drink, a job as a writing coach and two women absolutely crazy for him, Con seems to have it made. But as a former best-selling author, he's unfulfilled, wanting to not only reclaim his former glory, but surpass it. When a jealous girlfriend takes a shot at him, the near-death experience shakes Con from his contentment, forcing him shirtless and shoeless into a familiar watering hole where he meets the accommodating and impossible Nick Adams. Nick claims to be the reincarnation of Ernest Hemingway, sent to help Con beat his writer's block. Whether Con believes his companion is really a young Hemingway or just a look-a-like, their partnership injects his life with the excitement particular to the Florida Straights, complete with women, rum, hurricanes and a clandestine mission to Havana. Skwiot's…novel is not unlike the work of Kem Nunn, though instead of "surf-noir," "beach-noir" may be the better description. Babes, booze and plenty of dubious figures propagate the book's tropical setting, where almost anything is possible, even the unexplainable or supernatural."–from Kirkus Reviews

"Having a protagonist who is a writer is not easy to pull off–writers are not known to be action figures after all–but Rick Skwiot does it beautifully in Key West Story…In the end, the appreciative reader will have gotten to know several unique Key West characters, many of whom have lost some rudder power in their own lives, and all of whom find their core, their heart and their destiny, some in unexpected ways, with a salty Atlantic breeze at their backs.–Susan McKinney de Ortega, author of Flirting in Spanish.

"This novel gives us a new personal insight into what it might have been like to know [Hemingway] and profit from solid advice generously offered from the master's creative core."–The Green Grapevine
Media: For more information, or to arrange for an author interview please contact: