Sleeping With Pancho Villa | Rick Skwiot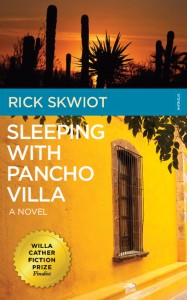 Finalist for the Willa Cather Prize.
"A thoughtfully layered backdrop of Mexican culture…impressively crafted labyrinthine setting…Snappy and often funny dialogue."–Publisher's Weekly
"Life in a Mexican town…laid out beautifully …A skillfully written portrait of an entire community. Highly recommended." –Library Journal
"This book alone heralds the arrival of a great new writer." –The Colorado Springs Independent
From Publishers Weekly
Skwiot's Chandleresque offering invigorates a familiar tale of murder and small-town political intrigue by playing it out against a thoughtfully layered backdrop of Mexican culture. Jake, an American drifter in an unnamed Mexican town, becomes a suspect in the murder of a local sculptor, Pancho. The search for the true culprit unearths the town's incestuous politics, and its economic tensions. Jake, meanwhile, has a fling with the seductive but virtuous Marta, Pancho's fiancee, despite unnerving visits from Pancho's ghost. Along the book's sleepy path we meet Jordan Freeman, a semideranged African American painter, as well as Hector Munoz, a driven but unsettled chief of police who balances his allegiance to the law with duties to two separate families. The murderer's identity comes as no surprise, since Skwiot introduces few reasonable suspects. He gives his story an impressively crafted, labyrinthine setting, but some clumsy writing, overheated subplots and cliched sex scenes detract from the book's cohesion. But Jake's adventure is gripping nonetheless, largely because Skwiot does not hide its more gruesome sides and handles scenes of grotesque violence with admirable restraint. Snappy and often funny dialogue keeps the novel and its characters moving through the crumbling houses of Skwiot's town.

From Library Journal
Skwiot, who won the Hemingway First Novel Prize for Flesh (First Edition, Eaton Street, 1998. Second Edition, Antaeus Books®), here brings us life in a Mexican border town, with a collection of residents, visitors, and events from their lives laid out beautifully in a novel that was runner-up for the 1996 Willa Cather Fiction Award. A Vietnam veteran, a policeman in this sleepy town, has two wives with children on either side of the border and manages to maintain relationships with both. Meanwhile, Jake, an American writer, falls in love with the beautiful Mexican Marta. When Marta's fiance, Pancho, is murdered, and an American woman in love with Jake commits suicide, Marta and Jake share love and are haunted by the two frustrated ghosts. The haunting can only end when the spirits are wed by a priest. Skwiot manages to organize these and other individuals and plots into a skillfully written portrait of an entire community. Highly recommended. Carolyn Ellis Gonzalez, Univ. of Texas at San Antonio.
Read an excerpt from Sleeping With Pancho Villa by Rick Skwiot