Christmas at Long Lake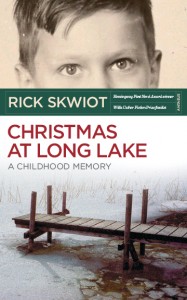 "Skwiot's vivid descriptions of the physical and emotional landscape…are poignant, entertaining, and instructional… There is magic in this depiction of a setting and a way of life that can be described only as Edenic."–Library Journal
"Rick Skwiot works his own magic… As usual, Skwiot's writing is sure…And his tale has a gritty, blue-collar cachet…This is good reading." –Kansas City Star
Rick Skwiot is the award-winning author of two novels set in Mexico, one in Key West, Florida and a newly released detective mystery, FAIL, (Blank Slate Press, October, 2014). His critically praised childhood memoir (Antaeus Books, 2010) has quickly become a holiday reading classic. He has published numerous feature stories, short stories, essays and book reviews in magazines and newspapers. Rick has taught creative writing at Washington University in St. Louis and at the University of Missouri-St. Louis, where he served as the 2004 Distinguished Visiting Writer.
READ AN EXCERPT of CHRISTMAS AT LONG LAKE here…
Shop Now
TRADE PAPERBACK

KINDLE EDITION

Also available at Barnes & Noble.
Or, ask your local independent bookseller!